Training with the Learning Support Service (LSS).
Salford Learning Support Service are running a series of webinars designed for individuals looking to develop their knowledge on a range of topics within the area of Special Educational Needs and Disability.
Attendance at these webinars is open to all, and these are free of charge to Salford schools and professionals. However, if you are attending from a school or setting from a different local authority there will be charge of £40. This will be invoiced by Salford City Council after the event.
We have been working closely with LSS to jointly deliver training around Communication Friendly Environments (CFE) and Quality First Teaching (QFT) and how this links with supporting Speech, Language and Communication Needs (SLCN).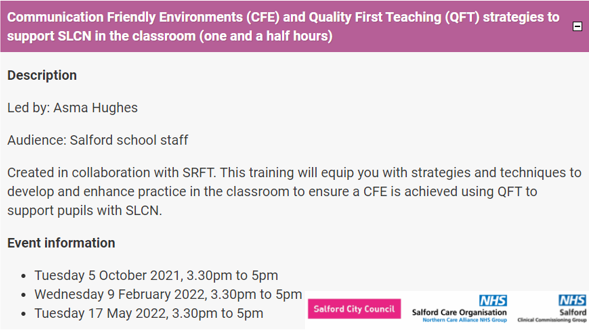 How to book
Please use the following booking form unless the particular webinar has its own booking form.
Book on to a Learning Support Service webinars
If you are unable to attend a session for any reason, we ask that you notify LSS as soon as possible, but at least five working days before. There will be a charge of £40 if you book on the session and fail to attend.