COVID-19- Supporting Your Child's Communication Skills at Home
During the COVID-19 outbreak, the Government has advised us to stay at home.
SpeakupSalford is here to support you. We have put together this page to support learning at home and to provide some advice to support yours and your families wellbeing at this difficult time.

Whilst at home, we want your child to reach their full potential! To do this, it is important that we support their communication skills.
Communication is SO important. Being able to talk and understand what other people say will help your child communicate with people, make relationships, socialise, play and learn.
If you think your child feels worried about COVID-19, please watch the video below for a Social Story to help them understand.
Also click here for our other COVID-19 pages to see how you can support you and your child's general wellbeing.
If your child is known to the Speech and Language Therapy service, they might have been sent home some resources or a 'programme'. Try to make sure you follow the advice you have been given, e.g. 10 minutes practice x3 per week. If you have any questions about the resources or advice you've been given, don't hesitate to e-mail us at Speakup.salford@srft.nhs.uk
A lot of advice we give can be incorporated into your everyday routines. Click here for our Parents and Carers page and have a read of our Top Tips and Ideas below...
Top Tips and Ideas for at Home
Nursery Age:
Children love to have your full attention. Taking the some Special TIme each day to talk and play with your child is SO important and will help their brain develop. Click here for a handout on making the most of your Special Time.
Play with your child and use imaginative ideas and fun toys to keep their attention. Having too many toys out or the TV on will be too distracting.When you play, get down on their level where they can see and hear you best. Click here for some great play ideas from BBC's Tiny Happy People.
We understand that whilst at home more, you might watch some TV with your child. Click here for ideas from The Communication Trust about how to make the most of TV programmes.
Talk about your child's interests and things that are happening right now.
Keep your talking short and simple. Using gestures and pointing will help them understand your instructions. Pictures and objects might help too. Click here for a great handout on using visuals from Talking Matters in Australia.
If your child uses single words or short phrases, try repeating what they say and adding a word on, e.g. Child- 'Mama ball'. Mum- 'Oh look, a red ball!'. Make sure you use plenty of intonation to make your voice sound fun! Click here for activity ideas from The Communication Trust to help develop communication.
Use simple sentences of 2-3 words that your child could copy, e.g. 'Max's milk bottle', 'building a tower' etc.
Have a look here at our page for Parents and carers of young children where you can access further advice and leaflets on supporting early language.
School Age:
Keep what you say short and simple. Break down long instructions or give one instruction at a time, e.g. 'first get your book and then come to the living room'. Using gestures and pointing will help them understand. Pictures and objects might help too.
Make time for talking and story telling. Encourage them to also tell you their stories and give lots of praise. Click here for BBC Bitesize story time.
If they make mistakes when they speak either with their words or sounds, repeat back clearly and in the right way, e.g. if your child said 'dun' for 'sun', don't correct them, just clearly model back 'ssssun'. If they said 'falled', you'd repeat back their sentence and say 'fell'. Click here for some fun ideas from Mommy Speech Therapy to help practice sounds at home.
After you ask a question, stop and silently count in your head to 5 before speaking again. Don't ask too many questions! Remember this hand rule- when speaking to your child, ask 1 question to 4 either comments, repetitions, expansions or explanations.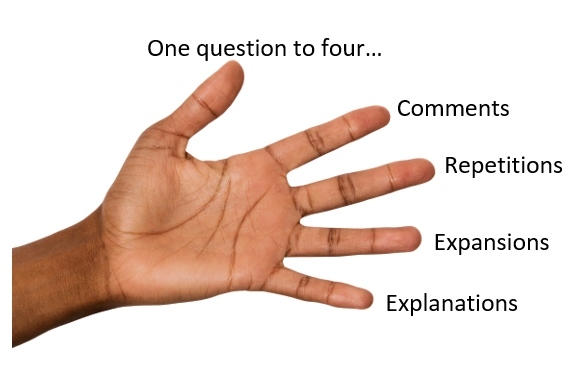 Story Time:
Take some time to share stories together. The questions below will help your chlid's thinking and talking. It's not a test so remember the hand rule- make four comments about the picture or story for every one question you ask.
All children's books are free on Audible during the COVID-19 crisis. Also Click here for lots of lovely online interactive books from the Book Trust.
Examples of questions.
Question 1 is the easiest and question 10 is the most tricky.
1. What's this?
2. FInd another one like this?
3. Who's this?
4. Where are they?
5. What's happening?
6. What might happen next?
7. How do they feel?
8. What's the character saying?
9. Why?
10. How do you know?
Games:
Indoor and Outdoor scavenger hunts are a great way to help develop your child's communication skills, particularly their listening and understanding.
Try giving your child some of these instructions (once you've got the idea, have a go at making up some of your own!):
FInd something that is long.

Find something that is rough.

Find something blue.

Find something furry.

Find something big.

Find 10 blades of grass.
You could use trickier words with older children:
Find something transparent.

Find something that's made from metal.

Find something that's reflective.

Find something that's brittle.

Find something that's an antique.

FInd something you can recycle.
You could try giving your child some longer more complex instructions. If they find these tricky, make sure you break the instructions down into chunks, repeat them or make them shorter. Remember this is not a test! Asking them to repeat the instruction back to you might help them remember what to do:
Find something from the back of the cupboard that is next to the sink.

Find a red book from the second shelf in Mia's bedroom.

Find some blue fabric from the box under the bed.

Find something from the left corner of the middle drawer.

Find a blue cushion and a green sock from Mum's bedroom!

Bring Dad a transparent cup and plastic plate from the toy box.

Make a smiley face out of a leaf, a twig and 2 stones!
You could even ask your child to make up their own scavenger hunt for you or any siblings!
Top Links:
Bryony Rust is an independent Speech and Language Therapist who has some wonderful ideas to support you and your child's communication. Click here to check out her You Tube channel.
Chatter Pack have some great free resources you can access. Click here to check them out.
Signalong are offering some free resources that you can access if you and/or your child uses Signalong signs. Click here to check them out.