Introducing Tiny Happy People
"A chatty child is a happy child!" Tiny Happy People is BBC Education's most ambitious and exciting initiative to date. The website has lots of ideas and advice to help you develop your child's communication skills through simple interaction and play.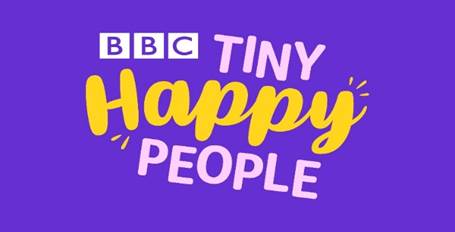 Fun Things To Do
Recognising how something is the same or different are important skills as this leads to the ability to understand, store and use words. These games encourage your child to match and sort.

It is important that when you play these games, you speak to your child and describe what is happening using simple words and sentences, e.g. 'Postman Pat is driving!'.

Listening to and singing rhymes helps your child become more aware of sounds in words. Rhymes are also really important skills for learning to read and write! Click on the links below to sing nursery rhymes together with your child:

Learning to tell the difference between everyday sounds sets a good foundation for saying words clearly and spelling. Click on the links below for games to play with your child:
Understanding early concepts supports your child's vocabulary development. This game supports the development of early concepts such as big, small, full, empty. When playing the game repeat the concepts out loud together. Click on the link below for a fun game that targets concept learning:
It can sometimes feel scary to start something new when it is different, and we don't feel prepared. Some children find it more difficult to change their routine and settle into places. Click on the links below to see how you can help prepare your child for reception.